Visit Our Luxury Kitchen Showroom in Manchester
British And German Kitchen Showroom in Manchester
Kitchens by Portfolio are a friendly, dedicated team, specialising in British and German kitchen design in Manchester and the wider area. Visit our kitchen showroom in Swinton, Manchester and you will discover a wealth of product knowledge, design flair, and industry expertise spanning over 20 years, making us the perfect choice to create the exact kitchen you want. With a host of luxury kitchen furniture, worktop and appliance brands, at Portfolio Kitchens we can take care of everything you need, and we always go the extra mile to look after our clients, delivering a seamless service from concept to completion.

So, whether you prefer timeless elegance, sleek serenity, country chic, or urban Utopia, we will bring your dream kitchen to life, tailored around your personal lifestyle, taste, and budget expectations.
Our British And German Kitchen Brands
At Kitchens By Portfolio, we stand out for our diversity, offering a choice of 3 distinguished German kitchen brands, and 2 beautiful British kitchen brands. With a myriad of finishes available, we can help you devise a space that directly reflects your personality and facilitates your lifestyle. What's more, we have brands to accommodate a wide spectrum of budgets, meaning it would be very unlikely we couldn't give you the kitchen you want, at the price you need! Whether this is a simple yet luxurious fitted kitchen, or else something extra special of a premium and bespoke nature, at Kitchens By Portfolio we know we can help.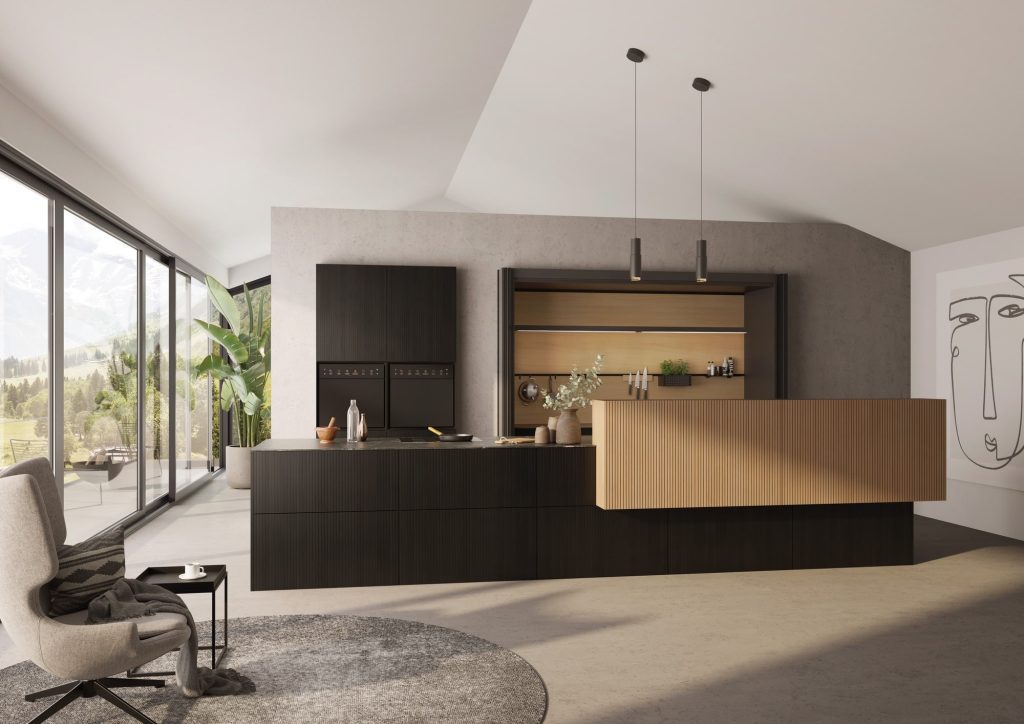 Why Choose A German Kitchen?
German kitchen manufacturers have a world-wide reputation for excellence when it comes to design and engineering. They recognize that in current times people want their kitchens to stand out and feel special, yet also maintain a personal feel, with finishes that bring warmth and character into the home. German kitchen manufacturers achieve this by offering a diverse range of stylish, high-quality kitchen products at affordable kitchen prices.
Equally important as style is the flexibility German kitchens offer in terms of functionality. For example, the breadth of cabinetry sizes- including custom units – allow our designers to break away from traditional kitchen layouts, giving our customers exactly what they want. And as well as choice, German kitchens also have a reputation for auto-precision engineering. In general, this means German kitchens are straightforward to install because they are so well made, but also that they will last long-term!
Rotpunkt German Kitchens
Portfolio Kitchens are experts in the popular Rotpunkt German kitchen brand. Rotpunkt is known for its modern, sleek kitchen designs created using high-quality materials and precision engineering. Offering a stunning selection of luxury kitchen doors, their range includes popular finishes such as gloss, matt, handleless, wood veneers, lacquered doors, cement, and ceramics in a variety of styles and colours.

Rotpunkt stands out because of its wide product range, which includes 6 types of handleless kitchen solutions, many drawer box options, concealed back panels, as well as bespoke sizes. Rotpunkt also offers 28 internal carcass colours, compared to most competitors who offer only 1-3. For a fully installed Rotpunkt kitchen with worktops and appliances, you could expect to pay from £17,000.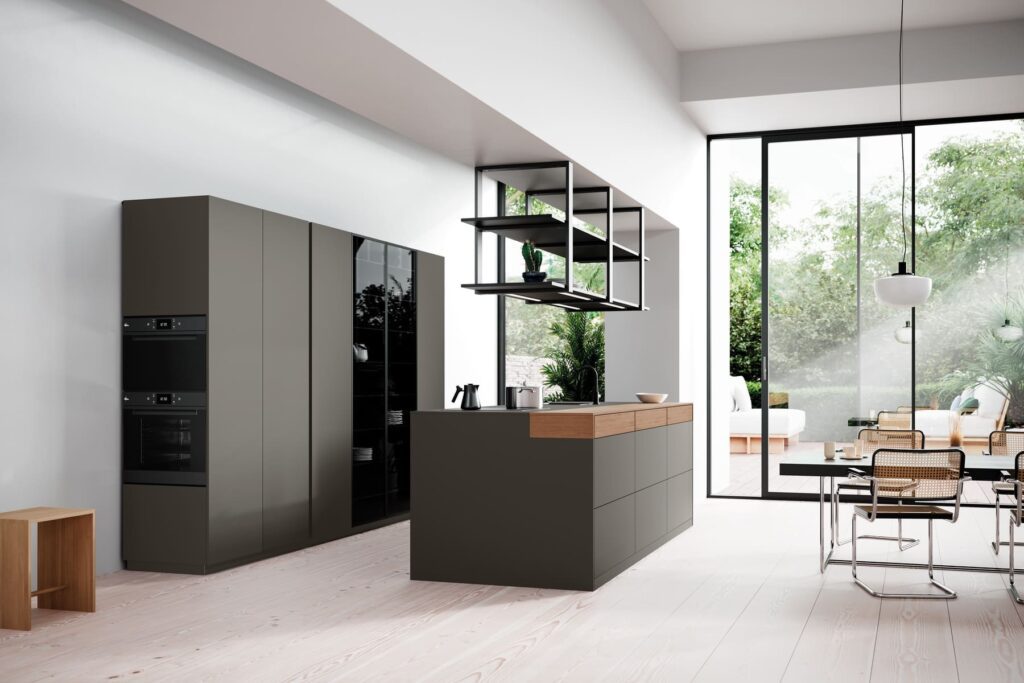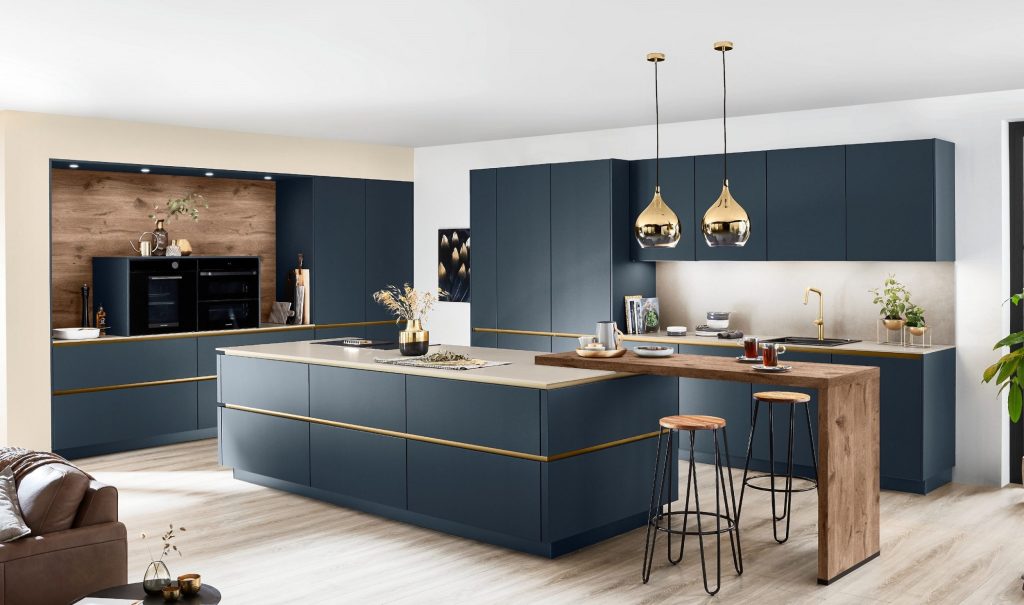 Nobilia German Kitchens
Kitchens By Portfolio is proud to offer Nobilia German Kitchens, a large, family-owned kitchen manufacturer that prides itself on its high-quality, affordable, and diverse kitchen ranges. Nobilia truly understands that everyone is unique and believes they should have a kitchen that reflects this. As such, they offer an extensive choice of options including over 100 different doors, 16 different carcass colours, and a wide selection of worktops and handles.

Nobilia continues to push the boundaries of design by offering innovative accessories and features such as UV lighting for herb gardens, open architecture wall units, or integrated rails or stands compatible with modern phones and iPads. Nobilia also offers solutions that allow for seamless furniture flow within other rooms such as the utility room, living rooms, media rooms, and bedrooms. Making luxury affordable, at Kitchens by Portfolio our Nobilia German kitchens start from £12,000 for a fully installed kitchen including worktops and appliances.  
British Kitchens
As well as our German kitchen range we offer a stunning choice of luxury British kitchen furniture from brands Aisling and Kitchen Stori. Kitchens By Portfolio we recognise the superiority of British kitchen manufacturers in perfecting the look of certain kitchen styles such as Shaker, In Frame and Lay on kitchen doors. Very particular in their character, British manufacturers pave the way for our designers to achieve the most elegant of design aesthetics.

Available in a wide choice of colours and finishes, our British kitchen offerings include on-trend colours such as pastels, greys, moody blues, and rich dark greens. Finally, British kitchens have shorter lead times and are usually more readily available compared with other brands, meaning if you need a kitchen in a hurry this could be the perfect kitchen solution.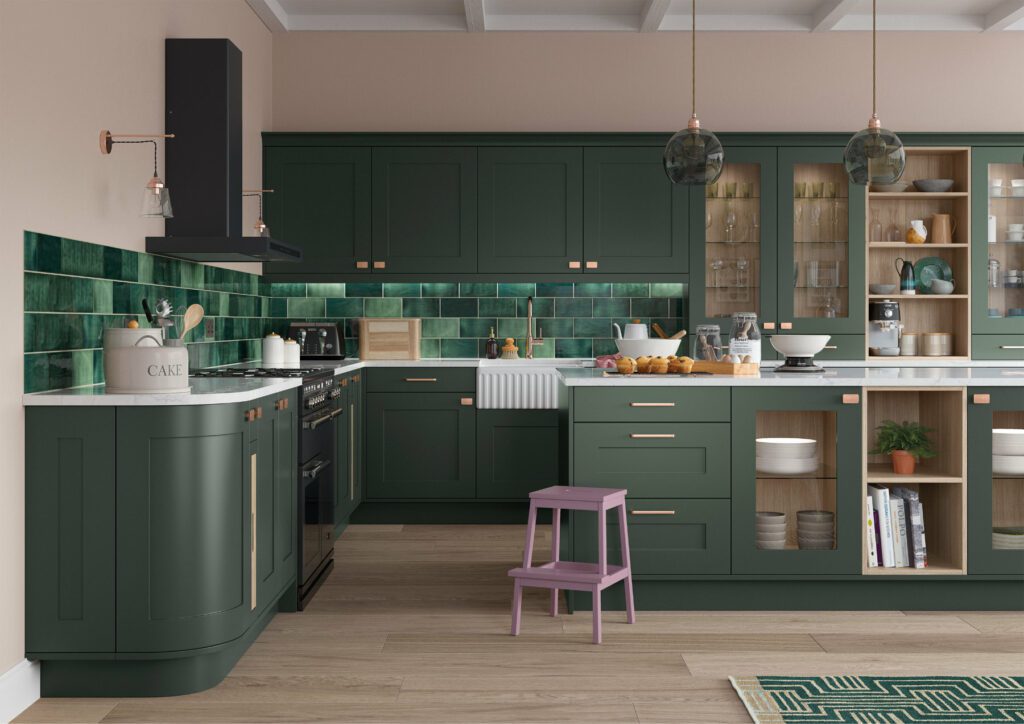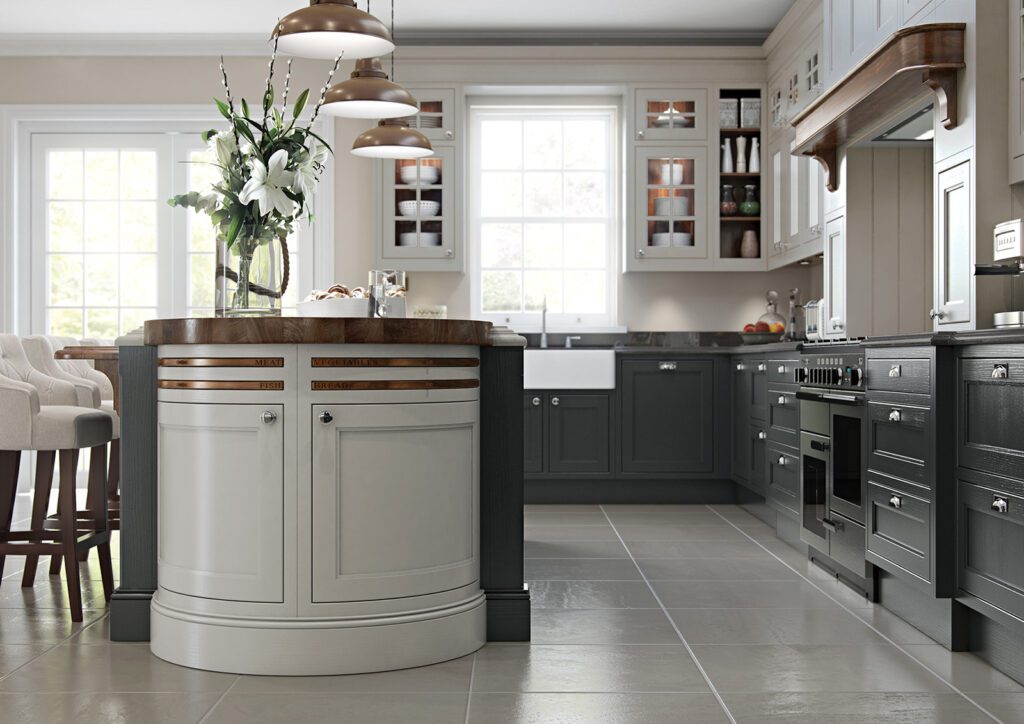 Aisling Kitchens
Aisling kitchen furniture is a British kitchen brand, specialising in bespoke, handcrafted kitchens. Producing beautiful, in-frame kitchen doors, Aisling Kitchens are perfect if you prefer a traditional kitchen look. As well as a diverse colour palette, Aisling offers many inspired features such as curved units, inbuilt wine racks, and customisable larder units. We also have a beautiful choice of door handles, including T-bars, knobs, and pull-handles. The perfect complement for Aisling kitchen furniture, these finishing touches in gold, copper, or antique, go a long way towards making your look your own.
Kitchen Stori
The Kitchen Stori kitchen brand originates from Northern Island, offering an extensive range of colours and finishes. From foil wrap doors to ultra-bespoke finishes, Kitchen Stori provides a product to suit all price points, typically beginning from £12,000 for a fully fitted kitchen with appliances and worktops. Kitchen styles from Kitchen Stori include shaker, in-frame, slab, raised panel, and handleless kitchen doors. These are available in a diverse choice of colours, or alternatively, Kitchen Stori also offers a bespoke colour option as well.
Scavolini Italian Kitchens
 
Scavolini Kitchens, a name synonymous with Italian excellence and design elegance, has been redefining kitchen spaces since 1961. As Italy's leading kitchen brand, Scavolini integrates form, function, and innovation to craft kitchens that are visually stunning but also highly functional. With a keen understanding of modern needs and desires, these kitchens are created to be the true heart of the home, catering to both culinary enthusiasts and those who seek a harmonious living space.

Emphasising quality materials, ergonomic design, and a diverse range of styles, Scavolini Kitchens offers the perfect blend of aesthetics and practicality, ensuring a timeless, lasting investment for your home.  
Swinton Kitchen Design Showroom
At Portfolio Kitchens we know there's nothing like seeing and touching a product for getting a sense of how it's built and what it can do. As such, we welcome you into our Swinton kitchen showroom where you can fully explore our range of kitchen furniture, worktops, and appliances.
Opening Hours
Monday: Friday: 8.30am – 5pm (Flexible appointments available evenings and weekends)
Saturday: 9.30am – 4pm
Sunday: Closed
Portfolio Kitchens Service Areas
Manchester Kitchen Showroom Amenities
You will find our luxury kitchen showroom on Moorside Road, conveniently located between a bathroom showroom on one side and a café on the other, and with Moorside Farm pub opposite. A family-friendly showroom we are open to all and look forward to welcoming you. Please call in for a browse and to ask any questions, or alternatively please book a design appointment ahead of your visit if you would like to discuss your new project in detail.
Discover Our Range Of Styles